©2017 ELY ROLLER SKATING CLUB

To find out more about Ely RSC please email us





Welcome to Ely Roller Skating Club. The Club promotes and encourages the enjoyment of Roller Skating as a sport and as a fun leisure activity in Ely, Littleport and the surrounding areas.
Click the buttons on the left to explore the site.
HAPPY SKATING !!

Saturdays
at Littleport
Please note that there will be no skating at Littleport on these Saturdays:
27th May, 10th & 24th June, 8th July, 12th August
See the Diary Dates page for more information.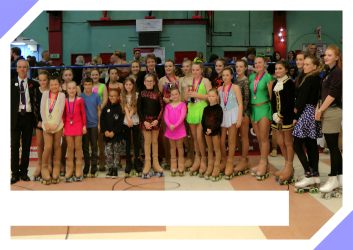 Artistic Skating Test Passes
Congratulations to all the Ely RSC skaters who passed their Grades, Figures, Free Skating and Dance tests on Friday & Saturday 10th/11th February.
Thanks to our Judges Jo Ward, Julia Phillips and
Steve Bruce for their hard work over the two days.
The Tests page has been updated.

Good Luck to everyone competing in the 2017 British Championships

Find us on Facebook
Ely Roller Skating Club has a Facebook page - where club news, announcements, competition results and photos will be published.
Find the page here - and feel free to like and share it.
2017 Tots, Minis, Classic & Masters Dance Championships
"Well Done" to the Ely skaters who all gave great performances at Saturday's British Championships held at Haywards Heath.
And special thanks to Sophie and Cathy for giving up their Saturday to look after the team.
Competitions page has been updated with the day's results.